Products
About Us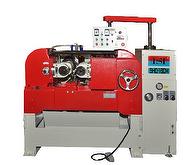 Songhao Hardware Machine manufactures thread rolling machines and
design/manufacture thread rolling dies. To satisfy industrial demands and provide
superior customer services, we specifically established a marketing company in China
in 2000 to train professionals in this field, offer on-site services, and facilitate
technical exchanges. Our products have been adopted worldwide by clients in
different fields, including aviation, aerospace, and auto parts manufacturing and
processing industries.

In 2007, we invested substantially on equipment for manufacturing thread rolling
machines and dies to enhance the quality of our services and products for a wider
group of clients. The major equipment of Songhao includes: multiple Reishauer
thread grinders, grinding and hobbing machines, CNC lathes, Reishauer projectors,
and Japanese Mitutoyo three-dimensional testers.

Songhao accepts orders of various thread rolling cylindrical dies and knurled dies (for
producing standard, worm, trapezoidal, spline, straight knurled, diamond, diamond
knurled, PT, NPT, MJ threads, etc.), as well as high-precision rolling dies for ball
screws. We customize the diameter, size, thickness, and length of various thread
rolling dies, and design thread rolling dies for clients if work pieces are provided.

Songhao has always been committed to customer satisfaction and high performance.
We insist on quality products, providing top precision at the fairest prices available,
and offering the best services for all our clients both local and international.
More
New Products